2016
Jazz Around Town
Jazz Around Town is a community initiative that puts Jazz in local clubs and restaurants during the festival. It is never too late to get in touch about this program! Shoot us a line a [email protected] for more information.

See below for our 2016 Jazz Around Town schedule!
Wednesday September 14th

Red Brick Café - 8 Douglas St, Guelph, ON N1H 2S9
8:30 PM
$5 or PWYC
Canadian singer/songwriter multi-instrumentalist, Dan Walsh is already well known for his collaborations with a number of talented musicians. He's added his bluesy-bluegrass signature style to more than 40 albums and toured across North America, Europe and Australia.
--------------

Paul Taylor
Manhattan's Bistro - Gordon Gate, 951 Gordon St, Guelph, ON N1G 4S1
6:00 PM – 9:00 PM
PWYC
With techniques acquired more in welding school and fab shops than during the completion of his degrees and diplomas, publishing and record contracts, film scores and jingles, residency gigs, festivals, tours, workshops, radio, television, club and sidewalk appearances, Paul Taylor has been known to literally break in pianos. He broke three strings on the old piano at Manhattans and put his finger right through a keyboard - "I like being a welder/fitter, it gives me better tone."
Thursday September 15th
Sandy MacDonald and Sue Windover
Manhattan's Bistro - Gordon Gate, 951 Gordon St, Guelph, ON N1G 4S1
7:00 PM – 10:00 PM
PWYC
Sandy MacDonald is a full time professional musician (guitar, banjo, mandolin, bass, vocals) with thirty-five years experience. As co-leader of The Beirdo Bros., he played in numerous schools, libraries, clubs, universities and corporate functions throughout Southern Ontario. He performed on The Elephant Show with Sharon, Lois and Bram, and toured Germany with the Canadian Department of National Defense Schools. Sandy has a BA in Drama from the University of Guelph and studied classical guitar and music theory at Wilfrid Laurier University.
Sue Windover is a singer-songwriter from Waterloo Region, performing her original compositions at concerts and festivals and singing covers in the local clubs. It has been said that Sue's voice 'changes the atmosphere.' "Partnering with multi-instrumentalist Sandy MacDonald in 2006 has been nothing short of wonderful", she says. They perform together often and are earnestly working on new material.
---------------
Red Brick Café - 8 Douglas St, Guelph, ON N1H 2S9
8:30 PM
$5 or PWYC
Joe Fournier simply plays American roots music - country soul, folk, rockabilly and blues - with stories that will make you laugh, cry and cringe, sometimes all in the same verse. He has a genuine eye for detail and storytelling that doesn't get in the way of a decent riff ... like a slap in the face with a rolled up copy of 'No Depression'.
Friday September 16th

Planet Bean - 2 Wyndham St N, Guelph, ON N1H 4E3
5:00 PM
PWYC
Alisha Oliver is a jazz vocalist who hopes to break into the Toronto music scene. She is a third year student in the Bachelor of Music program at Humber College. Previously residing in Guelph, she has just begun to perform in Toronto and its surrounding areas. She recently a vocalist in the Toronto All Star Big Band, an independent Etobicoke based big band. She participates as a featured soloist, a member of the Sister's of Swing, and the band's vocal group TABB Five. Alisha hopes to progress as a jazz vocalist through education and performances. She gives many thanks to Guelph Jazz Festival for featuring her as an artist.
Robert Lee: Bassist Robert Lee is an emerging bassist from Toronto. After graduating from the University of Guelph's Music Program, he moved to Toronto to continue his studies at Humber College's performance program. He has had the pleasure of performing at notable venues and festivals such as the Guelph Jazz Festival, The Newmarket Jazz Festival, the Emmet Ray, The Rex Hotel, and Gate 403. He currently writes and performs for his band, the RL Session, and is in the process of compositing original music for an upcoming EP.
--------------
Jeff Daniels & Friends feat. Ken Foster (sax), Jesse Turton (bass), and Andy Macpherson (drums)
Manhattan's Bistro- Gordon Gate, 951 Gordon St, Guelph, ON N1G 4S1
8:00 PM - 11:00 PM
PWYC
Jeff Daniels is a jazz pianist and music educator for over 30 years who lives in Guelph and currently teaches music at Centennial C.V.I. in Guelph. He was recently Music Director for RCMPI's Winter production of Irving Berlin's White Christmas at the River Run Centre.
Saxophonist Ken Foster enjoyed a career as a secondary school music teacher, and has also served on the faculties of the National Music Camp of Canada and the Ontario Educational Leadership Centre.
Bassist Jesse Turton, at the age of 14, won a scholarship to attend the world-renowned Berklee College of Music in Boston for their 1992 Summer program. Turton won the 1993 Galaxie CBC Rising Star Award at MusicFest Canada, entering Humber College with a scholarship the following year.
Andy Macpherson has been playing drums, vibes and percussion for over three decades and is the leader of the New Vibes Jazz Quintet in Waterloo region. He has worked in many large and small ensemble settings, spanning Latin, classical, rock, and jazz.
-------------
Red Brick Cafe - 8 Douglas St, Guelph, ON N1H 2S9
8:30 PM
$5 or PWYC
Eclectic Vinyl Orchestra is a dynamic group of musicians with varied tastes who love sharing great music from the 20s to 50s, including favourites of R&B, Bluegrass, Jazz, Blues and more.
Members: Stu (Keys, Guitar, Vocals); Jim (Saxes, Flute, Vocals); Matty (Bass, Trumpet, Vocals), Kerry Mullen (Drums)
--------------
Sip Club - 91 Wyndham St N, Guelph, ON N1H 4E8
10:00 PM
PWYC
Kent MacMillan and The Max Brent Band consist of the musically talented Lindsay Edwards, Scott Fitzpatrick and Kent MacMillan. Currently the band is working on a new album which is shaping up to be a very different beast from anything released to date. Combining a fuller band sound with some very different explorations literally the new album should bring the band to a much broader audience. Live the band continues to have an eclectic twist within their repertoire by playing a mix of bar classics, their own personal favourite songs, and a plethora of original material by Kent. Together they have played stages and bars across Southern Ontario and continue to entertain week after week as either a full band or in solo, duo or trio formations.
------------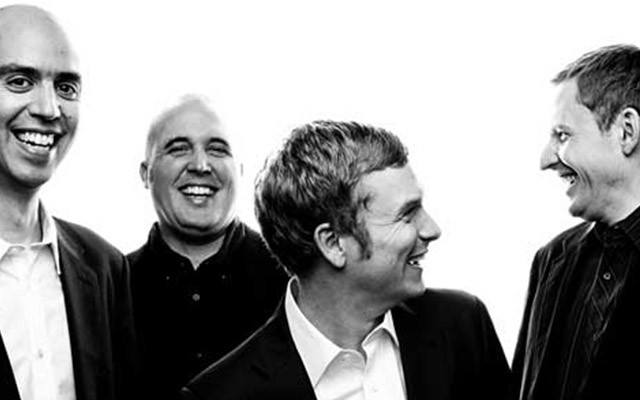 Van Gogh's Ear - 10 Wyndham St N, Guelph, ON, N1H 4E3
10:00 PM
FREE
"Peripheral Vision is one of the most exciting and innovative jazz quartets to have recently appeared on the international jazz scene. Based in Toronto, the creative leaders of the group are long time musical collaborators, guitarist, Don Scott, and bassist, Michael Herring. They have assembled a synergistic musical unit designed to push the boundaries of jazz while engaging the listener with a grooving, toe-tapping immediacy. Their distinctive musical voice bridges tradition and innovation, with deeply felt influences ranging from jazz, rock, classical and improv, with a focus on dynamic group interaction.
Peripheral Vision was recently featured at the Montréal Jazz Festival, where they were awarded the Galaxie Rising Star Award. Having just released their highly anticipated third album, Sheer Tyranny Of Will, they maintain a busy touring schedule in support of their three critically acclaimed albums. Scott and Herring are joined by saxophonist, Trevor Hogg, and drummer, Nick Fraser. While the compositions are Herring and Scott's, Peripheral Vision is defined by its group rapport. Bringing back the anything-is-possible democratic approach of both 1960s jazz and garage bands, the music takes shape as a collective process. This no-holds-barred philosophy is at the root of Peripheral Vision's explosive performances."
Source: http://junoawards.ca/nomination/2016-jazz-album-of-the-year-group/
Saturday September 17th
Balzac's- 5 Gordon St #100, Guelph, ON N1H 4G8
4:00 PM
PWYC
Ian Bain is an emerging guitar player based out of Guelph and Toronto Ontario. A music graduate at the University of Guelph and current student at Humber College. Ian approaches his playing from a broad base of playing experience ranging from Pop to Hardcore Punk to Hip Hop. Ian is currently developing his abilities as a jazz player and exploring free improvised and creative music.
Robert Lee is an up-and-coming jazz musician in the Toronto Jazz scene. After graduating from the University of Guelph's Music Program, he moved to Toronto to continue his studies at Humber College's performance program. As a student in the program, Robert has studied both privately and in ensembles under famous Canadian jazz musicians as Mike Downes (Bass), Ted Quinlan (Guitar), and Neil Swainson (Bass).
He formed his own band, The RL Session, with the goal of writing and performing music that is influenced by both traditional jazz and modern styles.
------------
Diana Downtown- 141 Wyndham St N, Guelph, ON N1H
7:00 PM - 9:30 PM
PWYC
Diana Downtown proudly presents their annual Jazz Around Town show - their fifth - with popular local jazz vocalist Brenda Lewis, joined by the gifted Toronto jazz guitarist Margaret Stowe, and, Guelph's own Cowboy Junkie, Jeff Bird on upright bass & harmonica! This is the trio from Brenda' acclaimed latest CD (Nov 2015) " FAR & NEAR", which has been receiving rave reviews:

"Her adept jazz sensibility is beautifully displayed; her consummate vocal skill shines throughout "
(LESLEY MITCHELL-CLARKE, THE WHOLENOTE)

"Between Lewis' always strong singing, expert choice of material, and a small group that delivers big, the thrill in this case comes entirely from the music." (MARK RHEAUME, CBC RADIO)

For over two decades, Lewis has been captivating audiences - in Toronto most recently in concert series at The Jazz Bistro, 120 Diner,Musideum and Flying Beaver Pubaret - as well as across Ontario in the McMichael Gallery's Jazz Series, Merrickville's Jazz Fest, Uptown Waterloo Jazz Festival, 1000 Islands Jazz Festival, and the Midland Cultural Centre, to name a few. Next year, she will be featured in acclaimed Jazz Room's (Waterloo) winter concert season and in June, she is a guest vocalist in two concerts celebrating the music of the Breithaupt Brothers - a songwriting tour de force often referred to as the Canadian Gershwins.

Dinner reservations highly recommended.
-------------
Silence - 46 Essex St, Guelph, ON N1H 3K8
7:30 PM
$10 or PWYC
'The Button Factory Band' is performing a few concerts in Southwest Ontario in September, as they prepare to record their first cd; their sound is 'industrial jazz/rock'; built with improvisation around strictly composed songs and structures
The band members (Glenn Buhr, Mike Anderson; Brandon Valdivia; Victor Bateman; Peter Lutek; Scott good) are all part of the improv scene in Toronto and Waterloo
https://soundcloud.com/user-608811621/sets/button-factory-band-industrial
Hot Jaws:
Venue: Silence- 46 Essex St, Guelph, ON N1H 3K8
A Guelph Jazz Quartet under the direction of Brent Rowan.
https://www.facebook.com/hotjawsquartet/?fref=ts
-------------
Manhattan's Bistro- Gordon Gate, 951 Gordon St, Guelph, ON N1G 4S1
8:00 PM - 11:00 PM
PWYC
Pianist Steve Koven is a composer, performer, producer and educator. In 1993 Steve established the Steve Koven Trio. Dozens of Koven's compositions have been licensed for national and international film and television productions. As an educator, Steve has been teaching Contemporary Improvisation and Jazz Piano in the Faculty of Music at York University since 2003 as well as teaching music at Centennial College. He holds a Masters in Music Composition and has presented master classes and clinics in worldwide.

Bassist Rob Clutton is a composer/performer. He earned a Bachelor of Music in Performance at the University of Toronto in 1991. Rob is a founding member of the Association of Improvisation Musicians, Toronto.
Drummer Anthony Michelli has sustained a very active international performance, recording, production and teaching career in collaboration with a vast number of distinguished composers and performers from all styles of music. Anthony has recorded and collaborated with a multitude of artists in the contemporary jazz, original composition, world, popular and creative music genres.
-------------
Woolwich Arrow - 176 Woolwich St, Guelph, ON N1H 3V5
9:30 PM
PWYC
Thunderbird is a psychedelic/contemporary jazz quartet that coalesced out of Guelph ON's vibrant music community in late 2012. The group blends a love of contemporary jazz and deep groove music with a decidedly 70's funk and fusion flavour on their first EP, 'The Deschamps Sessions'. The set is comprised of original music composed by Liorti, White and Russell and was recorded the old school way in early 2014 - live off the floor in single takes. The group is promising an even wilder ride with their next salvo, due out in the summer of 2016.
--------------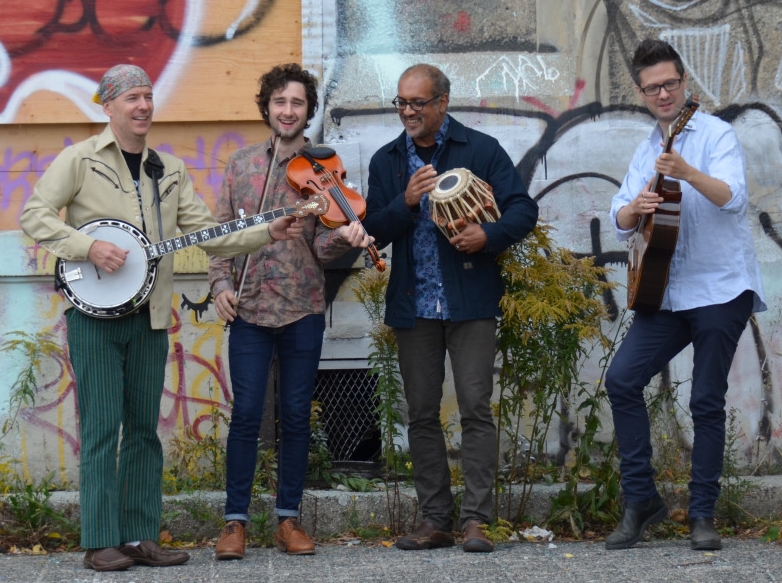 Red Brick Cafe - 8 Douglas St, Guelph, ON N1H 2S9
9:30 PM
PWYC
So Long Seven performs richly textured acoustic music that brings their diverse influences into a distinctly Canadian voice. Influenced by bands such as Punch Brothers, Shakti, Oregon and many others the band is breaking new ground. At once spirited and meditative, So Long Seven consists of Neil Hendry (guitar/mandolin), William Lamoureux (violin/voice), Ravi Naimpally (tabla/percussion) and Tim Posgate (banjo), together they are creating a seamless tapestry of sound through their original music. Blending composition and improvisation So Long Seven has been dazzling audiences all across Canada.
Tim Posgate - Banjo, Ravi Naimpally - Tabla, Neil Hendry - acoustic guitar, William Lamoureux - violin
Sunday September 18th
Morning Music Special - Open Improv. Music Jam Session - All Instruments Welcome!
Silence- 46 Essex St, Guelph, ON N1H 3K8
12:00 PM
$5 or PWYC
Please join us for a special morning music session at 12:00PM for an invigorating morning session of improvisation. Our Morning Music sessions regularly run every Monday morning, 52 weeks a year.
Coffee and tea are offered."
$5 or free with a breakfast food contribution.
-----------------
Red Brick Cafe - 8 Douglas St, Guelph, ON N1H 2S9
2:00 PM
PWYC
------------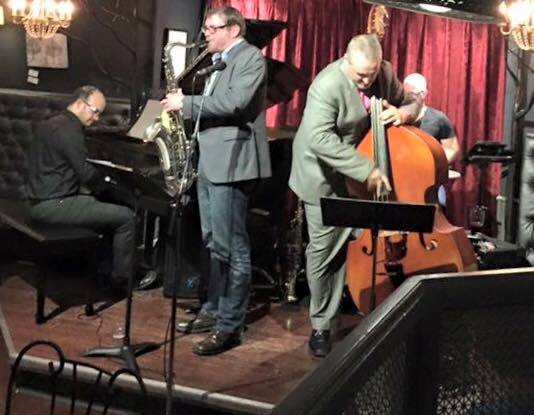 Dan Austin Quartet - End of Festival Party! Feat. Adrean Farrugia (piano), Steve Macdonald (sax), Adam Bowman (drums) -

www.adreanfarrugia.com
Manhattan's Bistro- Gordon Gate, 951 Gordon St, Guelph, ON N1G 4S1
6:00 PM - 9:00 PM
PWYC
Bassist Dan Austin has taught Instrumental and Vocal Music for 15 years and is currently the Band Director and Instrumental Music Teacher at the award winning GCVI music program in Guelph. A graduate of York University's Jazz Performance Program, he has presented several clinics at the annual Ontario Music Educators Association conference and is a regular contributor to the Canadian Music Educators Association Journal, Ontario Music Educators Association Journal, and the Ontario District Trillium Magazine.
Award winning pianist and composer Adrean Farrugia is one of Canada's most distinct voices on the piano. Adrean has performed/recorded with some of jazz's greatest and most diverse artists. Adrean is currently on the faculty of York University and Mohawk College of Arts and Technology where he teaches jazz piano and improvisation.


Steve Macdonald is a well-known Canadian saxophonist and has been a featured member and music director for Decca recording artist, Matt Dusk, since 2003. Steve is a graduate of the York University Jazz program, and currently makes his living as a performer, composer, and arranger.
Drummer Ted Warren studied Music at Montreal's McGill University, and received a certificate in Jazz Studies from St. Francis Xavier University in Antigonish, Nova Scotia. He teaches in the Jazz Studies programs at both Humber College in Toronto and Mohawk College in Hamilton, Ontario, and is also a well-regarded clinician and adjudicator.
OUR PARTNERS
Our collaborators believe in the Festival and recognize the cultural and economic impact it has on the city of Guelph. We are grateful to have more generous sponsors than we can thank here, so we encourage you to look at our sponsor page and to support the many businesses and organizations who provide vital support to the Guelph Jazz Festival.
Special thanks to our Premiere Sponsor

TD

, RogersTV, and our Lead Hotel Sponsor Holiday Inn Guelph Hotel and Conference Centre.